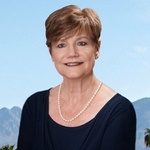 "Success as a buyer's agent is the direct result of my belief that we are blessed to live here. Or at the very least most fortunate!"

Still enchanted as a 23 year resident, and a professional Realtor for the last 11, Tanya directs your discovery of the many merits, along with the magic, of residing in this valley. Indeed, that's what she enjoys and says she does best.

Having owned, as well as sold, in La Quinta, Palm Desert and Rancho Mirage, her experience and expertise is both personal as well as that of a professional Realtor. She believes that by understanding the idiosyncrasies and the flavor of each city, the personalities of the country clubs and their amenities, and the pros and cons of current inventory, she will maximize your time by showing you the best values and alternatives matching your key criteria.

With clarity regarding your "wish list" as well as financial goals, she will help you design and execute a thorough, enjoyable search resulting in a solid successful transaction. Then, she says, you can discreetly gloat about the magic of living here too!

California Lifestyle Realty, a well respected resort real estate firm, is located at the La Quinta Resort & Club, whose history and natural beauty have long been synonymous with the essence of resort living.
CalDRE#: 01317612