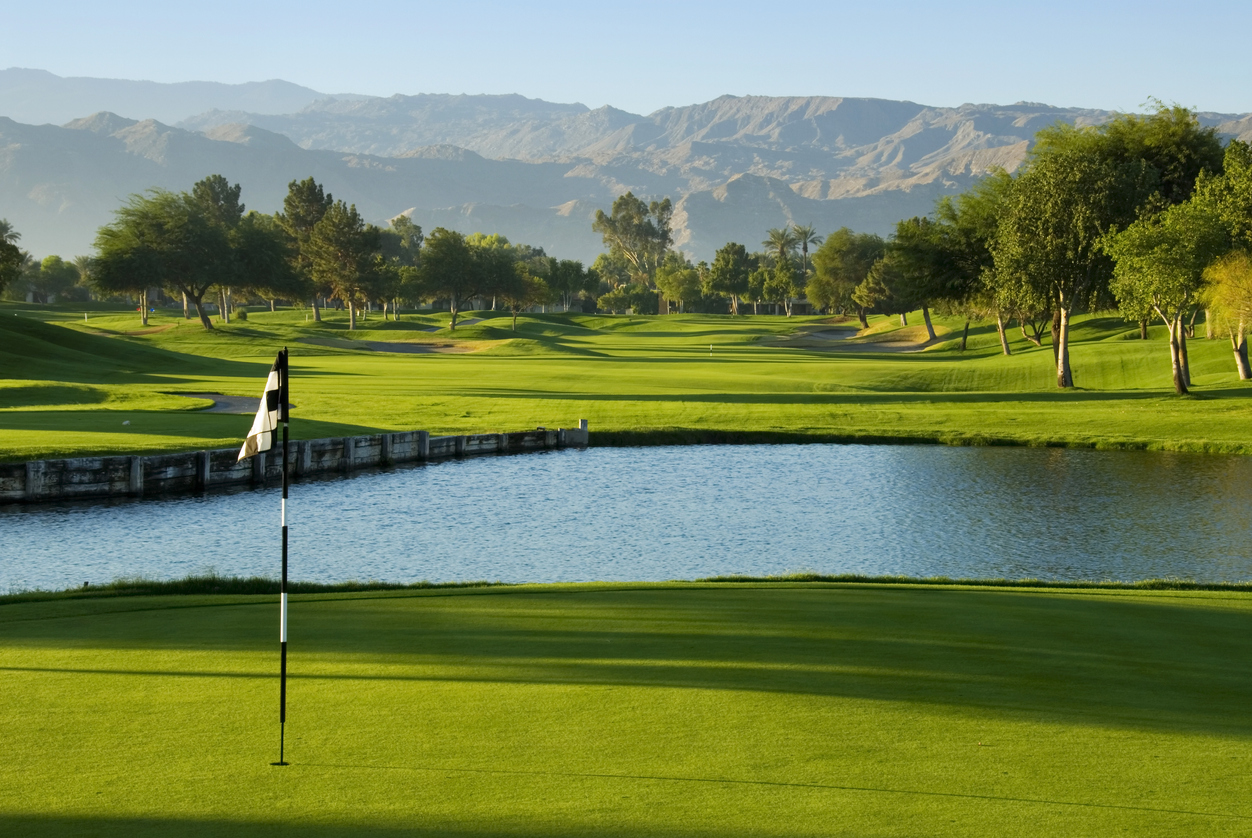 There are over 100 golf courses in Palm Springs. Matched with over 260 clear, sunny days, it's no surprise that our desert oasis is a golfer's paradise. But with so many options, which holes should be on your must-try list?
Here's our round-up of the best golf holes across Palm Springs.
17th Hole, The Stadium Course at PGA WEST
Located at PGA WEST, the Stadium Course got its name from the designer's plan (Peter Dye) to integrate viewer seating into the organic landscape of the course. The  par-3 17th is also called Alcatraz, for the location of the green in the middle of a pond.
This Dennis Wise and Tom Fazio designed course showcases California's classic country club courses in a fresh way. The par five finishing hole is sophisticated and graceful, while still providing a challenge for every type of golfer. The Madison Club is a private course and is one of the most exclusive clubs in the Palm Springs area.
Golfers say that the course at the La Quinta Country Club is a tighter course, that goes beyond what the average desert course offers. The par four 17th lies between bunkered trees in the middle of the fairway. Sloping elevations and small breaks make this green challenging but engaging to putt.
There are so many great holes on The Tradition course. It has some of the most visual vantage points in the entire valley and is currently ranked at 17 on Golf Course Gurus' Best in the State list. The back nine holes get pretty scenic, tucked just below the Santa Rosa Mountains and some holes are even regularly visited by bighorn sheep. But the 17th is the most stunning hole, where a thrilling downhole tee shot creates unparalleled views of the region.
18th Hole, Clive Clark Course at The Hideaway
The Hideaway's golf memberships are invitation-only, making it a true privilege to play at any of the club's two distinct courses. The Clive Clark course is like having a piece of the British Isles in the desert. Wildflowers, water features, expansive greens, and rolling fairways make this an accessible but rewarding course to play. On the par-four 18th hole on the Clive Calrk course, the green is broken and separated by natural landscapes and large waterways.
15th Hole, Jack Nicklaus Tournament Course, PGA WEST
The Jack Nicklaus Tournament Course is stunning and challenging, with holes designed to test even the most strategic and skilled players. It's been described as a "true ball strikers' golf course." The par four 15th hole is complicated and requires great risk for an opportunity for even greater reward.
Looking for your own golfer's paradise? Check out our listings for vacation properties, rental homes and so much more! Click here to browse Palm Springs and Palm Desert, CA real estate today!