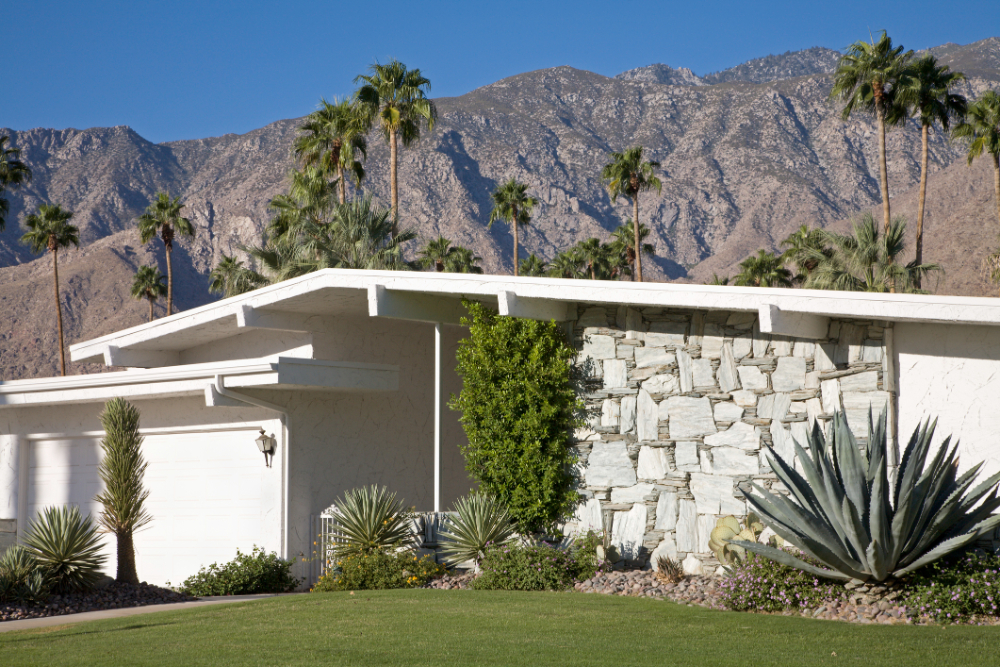 Palm Springs' natural beauty and yearlong great weather would have been enough to send people flocking to it. Still, over the years, it has masterfully transformed itself to be even more enticing for individuals who are looking to experience the gems offered by this sunny resort city. This mountainous haven has long been providing a reprieve for people seeking the comforts of a quaint small town to escape the stresses and noise of big city life.
The place is now not only highly regarded as a premiere golfing destination and a spa getaway this side of the US, but also as an architectural mecca for people who love and admire the mid-century modern style.
The Rise of Desert Modernism
Beginning in the 1920s, a notable number of modernist architects, including Richard Neutra, John Launer, Donald Wexler, E. Stewart Williams, George and Robert Alexander, John Porter Clark, William F. Cody, William Krisel, and Albert Frey, sought to design modern homes in a style that harmoniously matches Palm Springs' dramatic and breathtaking landscape.
Wanting to create modernist structures that fully capture the essence of a life of simple elegance and relaxed leisure, their creations were characterized by:
Clean lines
Generous use of glass walls
Outstanding use of indoor and outdoor spaces – a very distinct look that will surely leave a lasting impression for anyone who ever gets to marvel at its beauty
Ultimately, this style of modern architecture was aptly coined as Desert Modernism.
An Architectural and Engineering Marvel
Yet there's more to their Desert Modernism than its stunning design. Needing to withstand the Palm Springs climate, this architectural style is also famous, and praised, for its adaptive use of innovative materials and technology and a handful of groundbreaking construction methods.
Structures in this style are distinguished by several features, such as the use of a cantilever to block out the sun, and clerestory windows or windows placed just below the roofline, allowing natural light to stream in while providing privacy. With that in mind, we can all agree that they didn't just build architectural wonders but engineering marvels as well.
Examples of Desert Modernism
Notable sites that typify the Desert Modernist look include:
Several communities in Palm Springs are also showcases of Desert Modernism, with the following being just a few of the famous homes created in this style:
Other locations worth checking out are the Wexler Steel Homes, the House of Tomorrow (famously known as the honeymoon home of the King himself, Elvis Presley, in 1967), the Palm Springs Art Museum's Architecture and Design Center, and Frank Sinatra's original Palm Springs estate.
The Timeless Appeal of Desert Modernism
Desert Modernism has taken root in Palm Springs and continues to flourish to this day. Structures crafted in this style are also being preserved and interest in Desert Modernist homes has risen thanks to the popularity of TV shows set during the 1950s and 1960s.
Newer designers are also looking to create homes that are a slightly refreshed version of Desert Modernism, though the original style looks futuristic enough that little needs to be done to update it.
Notably, Palm Springs was named to the National Trust of Historic Preservation in 2006 and listed as a Preserve America City in 2009. The designations ensure that the legacy of Desert Modernism is protected and cared for and can be enjoyed by its residents and countless visitors for years to come.
If you're looking for a home with a Mid-Century Modern vibe, contact California Lifestyle Realty. We specialize in homes for sale in an exceptional array of communities in La Quinta and Greater Palm Springs. Give us a call today at 760.989.4631 or send us a message here.