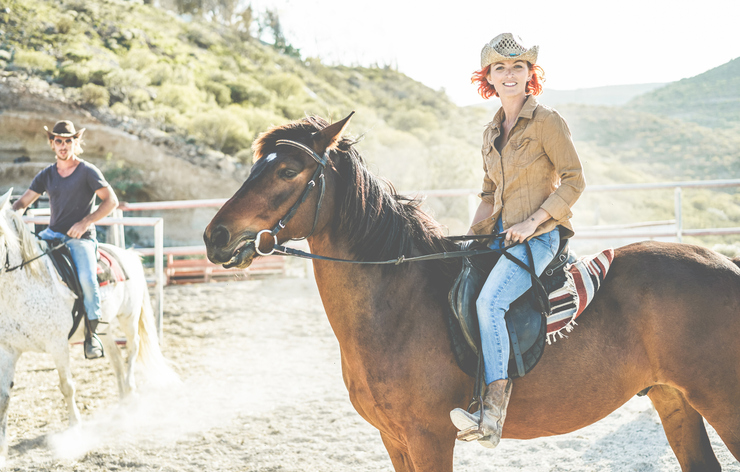 Saddle up and get ready to go on a scenic ride at these horseback riding destinations in Greater Palm Springs:
Coyote Ridge StableFor the past 20 years, the Coyote Ridge Stable has been providing a wide variety of horseback rides for riders of all skill levels. These rides will take you the foothills of the Morongo Valley, giving you views of Mount San Jacinto and San Gorgonio Mountain.

Here are the different trail rides offered by the Coyote Ridge Stable:

Coyote Creek – This ride will bring you right to the stunning Canyon Creek Lake, where you can spot various desert wildlife. It is also one of Coyote Ridge Stable's most popular rides.
Quail Canyon – If you're in a rush, try Quail Canyon. The ride lasts for just an hour and 15 minutes but you'll still be able to witness the panoramic views of the desert.
Lizard Rock – For those who want a more private ride, Lizard Rock is a two-hour, one-on-one session with a guide. This serene and peaceful ride is open to riders of all skill levels.
Adventure – For the more adventurous and experienced riders, Adventure will challenge you with uneven and hilly terrain. The duration of the Adventure ride varies from 2 hours to 4 hours.
Moonlight – Perfect for those who want to take a romantic horseback ride under the stars, Moonlight is an hour and a half ride for couples of all skill levels. Availability of this ride depends on the full moon, making this ride all the more special.
The Coyote Ridge Stable is located at 50639 Panorama Drive, Morongo Valley, CA, just 20 minutes away from Palm Springs. For inquiries or reservations, please call 760-799-5182.
Smoke Tree StablesSince 1927, this family-owned horse riding service in the heart of South Palm Springs has been providing guided rides for beginners and experts.

The rides offered by Smoke Tree Stables are:

One Hour Trail Ride – This hour-long ride to the foothills of the Santa Rosa Mountains begins every hour, starting from 8:00 a.m. all the way until 2:00 p.m.
Murray Canyon Haul Ride – A longer and more scenic course, the Murray Canyon Haul Ride will bring you to the incredible Murray Canyon, Indian Canyon, and Andreas Canyon.
Private Guided Rides – If you want a solo ride, you can take a private riding session. However, reservations are required.
Aside from these riding options, Smoke Tree Stables also offers group rides, equine facilitated psychotherapy, and a complete boarding facility. The Smoke Tree Stables are located at 2500 S. Toledo Avenue, Palm Springs, CA. For more information, call 760-327-1372 or email info(at)smoketreestables(dotted)com.
Crazy Horse RanchThe Crazy Horse Ranch offers one-hour and two-hour private trail rides along the Morongo Valley. Led by their friendly and highly experienced guides, these rides will take you on a breathtaking route through the Morongo Valley while teaching you the proper horsemanship techniques. Just make sure to arrive at least 20 minutes before the scheduled session.

The Crazy Horse Ranch is located on 50440 Cheyenne Trail, Morongo Valley, CA. Email j(at)crazyhorseranch(dotted)biz or call 760-831-6450 for more details.
Horseback riding is just one of the many exciting outdoor activities you can enjoy in the Greater Palm Springs area. Learn more about this incredible region by giving us a call at 760-564-1200 or sending an email to info(at)califestylerealty(dotted)com.