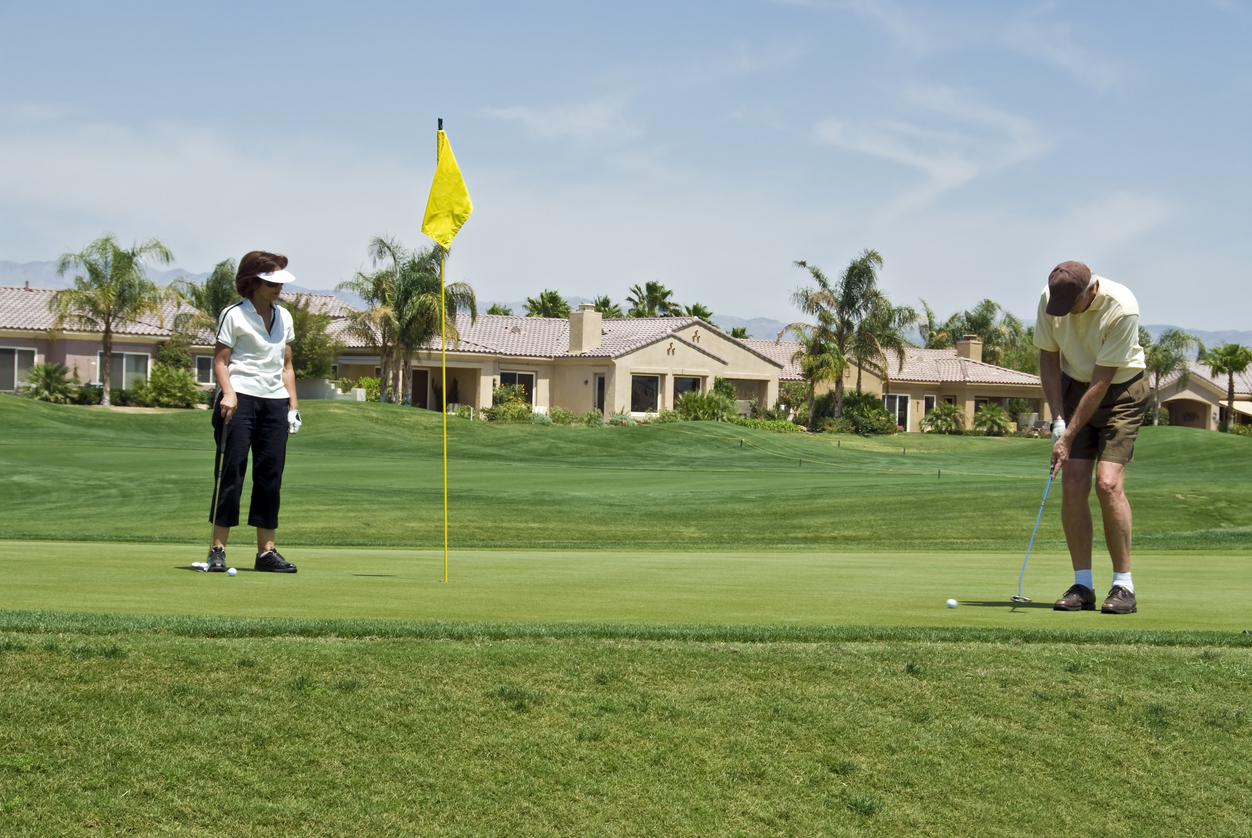 It's a buyer's market in golf communities across California and the United States. But before you jump into an investment, there may be some considerations you're overlooking.
Buying into a golf community is about more than reading the fine print and comparing amenities. Residents who are happy with their property for decades genuinely align with the community's ethos and lifestyle.
Here are the key questions you should be asking before buying a home in a golf community.
What type of area do you like living in, really?
Sometimes the idea of what we want, and the reality are two different things. It can be exciting to picture yourself in an expansive, isolated, luxury community when you're used to condensing city living. But the truth is, that you might not actually enjoy that type of lifestyle once you try it.  Think about the cities you love to travel to, what are the similarities between them? Identifying the patterns in the places you love can help you understand what type of community you'll really be happy in.
Will you need seasonal or year-round access?
Cold winters, severe storms and rainy seasons can make a golf course unusable for half of the year. If you want to golf year-round, a location that's prone to hurricanes or months of snow won't likely be the best option.
How accessible is the community?
It's easy to get so caught up in the excitement of joining a golf community, that you forget the basics. If you're going to be flying in a few times every year from across the country, how close is the nearest airport? Will transportation be an issue? How accessible is the community to dining options, stores, and other basic needs? Will you need a vehicle onsite? Is a driver available?
What's the quality of medical care in the area?
Having the health providers you need nearby is key when looking for a golf community. Assess your current health level and the type of care you regularly need at home. If you'll be sharing the home with your family, consider the medical needs of everyone. How close is the nearest emergency room? If children will be staying with you, are there quality pediatrics providers nearby?
How close is too close to the green?
Living right on the green can be too much for even the strongest golf enthusiasts. Golf courses can be loud and fly balls frequent the yards of homes along the green. Ask yourself how much noise and excitement you're used to, and assess how much you really will be able to tolerate.
What other types of courses are in the area?
A course can start to lose its appeal after its been played dozens of times. It's important for golfers to know what other types of courses are available for use in the community and the greater region they are interested in.
Work with a broker who knows the area.
How many homes has the broker you're working with sold in the area in the past year? One or two isn't acceptable to be considered someone with the "know-how" to help you hunt in an area. Golf communities have a lot of regulations and financial obligations to consider. Working with someone who isn't experienced with the specific community you're considering, could mean major oversight on important points.
We are a team that values long-term relationships with our clients. Our real estate experts are focused on La Quinta real estate and golf courses in Palm Springs, CA. Click here to learn more about the wide range of different golf communities in greater Palm Springs.